THISDAY DAILY INTERVIEW WITH DJ MIXMASTER BROWN
@Mixmasterbrown
Ekpenyong Otu also known as MIXMASTERBROWN or 'Calabar Boy' has been in the DJ business for over 25 years. He is a multiple award winning DJ and the current chairman of DJs Association of Nigeria in USA. JAMES SILAS connected with him recently, and he talked about art of Deejaying, Nigerian music industry and why corporate bodies are not really supporting Nigerian DJs.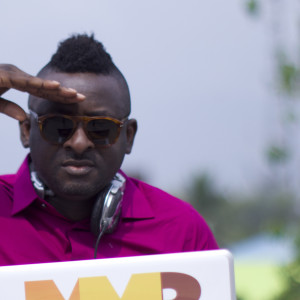 Give us an insight of your background  
I am a Niger Delta Boy; partly Cross River, hence the nickname 'Calabarboy' and the rest of me from Delta State (Agbor). I was born in Surulere, Lagos State; married to my best friend, and we have produced two great boys. I started my school days in Day By Day Nursery School to Baptist Primary School, Surulere, then moved to Edo State, (used to be Bendel State), for Boarding school and back to Ekimogun Primary, Surulere. We moved again to Kaduna, then moved back to Lagos to complete my Secondary school at Aguda Grammar School, Surulere. I have a Diploma in Law and B.Sc in Political Science from the University Of Jos. Now I'm based in Houston.
What sparked your decision to become a DJ and how long have you been in the business?
I found myself in the DJ business at an early stage in life because my family have always loved music. My mum was a music person who belonged to a cultural music group. So I guess I was born to be a DJ (laughs). I became a professional deejay in 1989. That makes it 24 years now.
Where do you see Nigerian DJs in terms of brand affiliation and 'monetization' of the art?
Only a handful DJs have been able to create a brand and image for themselves. Which is a good thing; and I think most DJs and/or aspiring DJs should work on this too. It's not all about playing music. In order to succeed in any business that involves human interaction, you must have an understanding of human relations. Starting from your appearance, to the way you interact with clients, on and off the job. The word we are looking for is "professionalism". If most or all DJs can be professional in how they execute and carry out the job, I think it will be better for us all. I really do have a lot to say about this because I have been talking about this for a while now.
As a veteran in the game, what are you doing to pass your legacy to the next generation?
Most of the things I do today, is for those behind or coming after me. I am the only Nigerian or African DJ who has launched or created a strictly DJ pool and DJ community for African and Nigerian DJs. I created a site about 4-years ago and we have almost all the computer or internet savvy DJs registered with it. The site was created for DJs to interact, get to know each other across international boundaries, share ideas and music, learn techniques and so on. I have been doing this myself and have written to a couple of the big companies to come in and support, but I guess they don't think the DJs need that much support. The site is called Dj2download and can be accessed at http://dj2download.com. I also have the biggest DJ event in Africa, which is supported by Cross River State Government 'Mixmasterbrown's Night of DJs'. It is witnessed by over 10,000 spectators. Nigerian Deejays from all over the world are assembled in Calabar every December for a showdown. This started in 2009. So in the future, I think these would be very important references when you talk about deejaying in Nigeria.
What is your relationship with other DJs in Nigeria?
I have a wonderful relationship with DJs back in Nigeria. We stay in touch as I am currently the Chairman for U.S.A Deejays Association of Nigeria.
Is there really a classification when it comes to Deejaying, and where do you fall into?
To some extent, I would want to say "yes" there is some sort of classification but it depends on the individual DJs to know what their strength is playing at event, though they might want to claim full versatility. For me, I have done it all. Clubs, radio, events. But my strength lies in Clubs and Events
What do you think Nigeria is missing in the art and business of Deejaying?
Let me start by saying that some Nigerian deejays are missing out of the global music pie. There are a lot of issues I can attribute to why the Nigerian DJ scene is lacking behind, but I will point out a few key ones. Bear in mind that some are really doing well.
First, they box themselves into strictly "Nigerian Identity"; don't get me wrong. I love our music and culture, but at the same time, don't shut yourself out of the global music explosion. There's also the lack of cordial working relationship; there's even some sort of cold war amongst DJs. From the general perspective, there's the lack of a properly sponsored official music concert for DJs in Nigeria. Other DJs in Europe, Asia and the USA are having sold out events and making millions of Dollars from such events. Nigerian music is currently doing well in Africa, abroad and I personally know we have what it takes to make it work. DJs like Carl Cox of Britain, Dutch Dj Tiesto, Calvin Harris, Skrillex, Afrojack, David Guetta etc, are worth millions of Dollars. The DJ profession is really suffering in Nigeria. And one of the reasons is that most corporate companies do not see it worthy of sponsorship.
In the same line, what would you say about the music industry?
Nigerian music on the other hand, is doing better than the DJs who are the key apostles of music. Billions have been pumped into the industry and still counting. Although there are just a few more tweaks needed to perfect the Nigerian music industry. I have come to realize that some artists confuse distribution and marketing.
Distribution is how music gets into the shops, while marketing is much broader but can be termed as everything you and your music already are. Marketing also involves promotions, branding, advertising, pricing and distribution channels. Only very few record companies understand the difference. And when you take a look at their artists, you find them to be extremely successful. The talent is there, although we still have a few mediocre, which is normal in every society. So basically, the Nigeria's music industry needs to beef up distribution channels and improve its marketing strategy.
We don't see an impressive number of Nigerian DJs getting products or brand endorsements, from your point of view, what's responsible for this?
This is still a mystery to me. It sure looks like a conspiracy. The DJs are probably the most instrumental in the industry, yet they get, the less or no endorsement. I think it's bad. Having said that, I think we the DJs are not as united as we should – that seems to be working against us. Fact! Until this issue is addressed, we might never see this endorsement.
What else do you do, asides Deejaying?
I have a record and management outfit. I currently have one artist signed by the name, Salma Sky. She's a multiple award winning artist from Zambia. You can look her up online. I also develop and administer to websites; matter of fact, I run one of the oldest music website called Afrijamz – http://afrijamz.com. This might come as a surprise to a lot of folks out there, yes I own, developed and run the site. I also spend time monitoring my online radio http://afrijamzradio.com. I do some events planning and management. I also do a lot of online promotions and advertisement.
How do you juggle between family and work?
Real easy. I married an understanding wife. She handles affairs pretty well, with or without my input. This gives me more room to run the business.
If you were to address Nigerians about Deejaying, what would you really want them to know about DJs and art?
I know respect is earned, so asking Nigerians to respect DJs would be out of place, but I want Nigerians to know that deejays are hard workers and are very instrumental to the success of most of their successful acts including P-Square, 2Face, D'banj, Iceprince, Wizkid, Davido etc. They should also know that deejaying is a tough but fun profession. To get the folks grooving, the DJ needs to enter their heads and minds to know what will get them up to get down. Deejays need recognition and endorsement too.
James Silas is a creative writer and Managing Director of Jarmzone Entertainment. He is also a columnist at Thisday Newspaper. Before that, James was an Editor at Hip Hop World Magazine. Asides writing, he a media consultant and runs a photography outfit, called CliQ By JamJam – see www.cliqbyjamjam.com